When vibrant yellow sunflowers popped their heads up on Maui a few years back, they were a stunning surprise to many. Since then, folks have been practically starstruck (or would that be "sunstruck?") by the field off North Kīhei Road on the way to and from Mā'alaea. Just search #MauiSunflowers and you'll see the abundance of visuals online! And yeah, that includes our content on social media, thanks to Travis Morrin Photo and his beautiful drone footage.

Locals like us were used to driving by rows and rows of sugar cane for years, and now all of a sudden, these sunflowers were on the scene in a very big way. We'll share some really cool background and facts on this down the road, but for now, here's a summary.
Solving a Pervasive Problem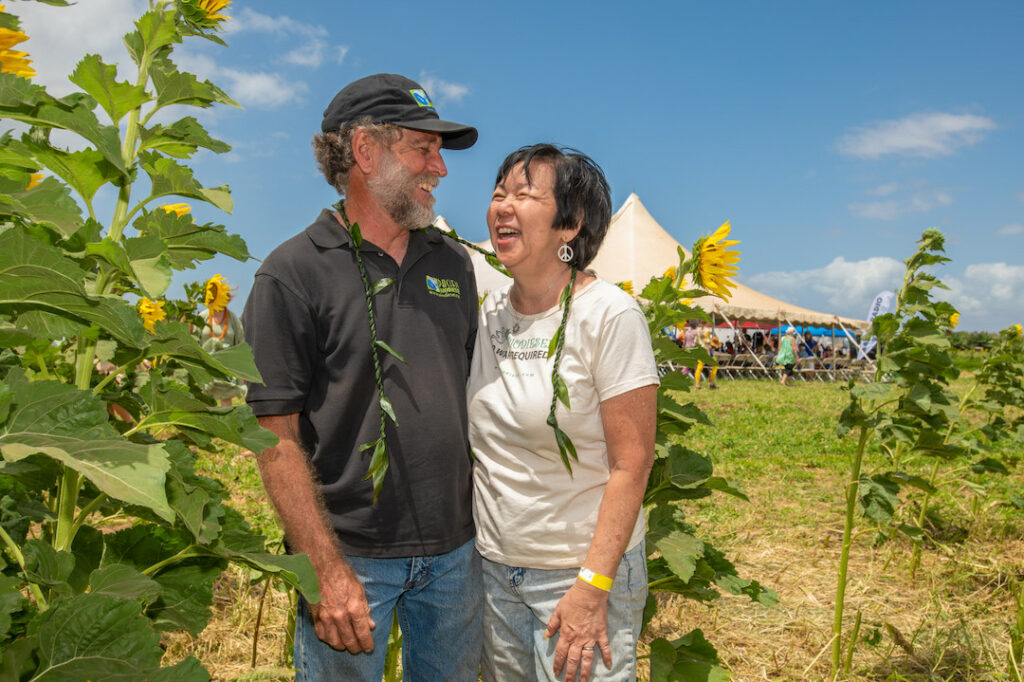 A sunflower is more than a pretty face in this field, farmed by Pacific Biodiesel®, which was founded by Bob and Kelly King more than 25 years ago. Bob King was a diesel mechanic at the Maui landfill and wanted to find a better use for all the restaurants' used cooking oil.
"Bob was noticing that thousands of gallons of used cooking oil from restaurants was being dumped in the landfill and he came up with a solution," explains Pacific Biodiesel marketing director Joy Galatro.
The nation's longest operating biodiesel producer, Pacific Biodiesel established the first retail biodiesel pump in America here on Maui back in 1996. Today, the company is the only commercial producer of liquid biofuels in Hawaii.
Biodiesel is a clean-burning renewable fuel, made using natural vegetable oils and fats. But even after growing their business to collect cooking oil statewide and convert it into biodiesel, the demand remained high. So they turned to agriculture to help fill the need. Namely, sunflowers!
Maui Sunflowers Spur Sustainability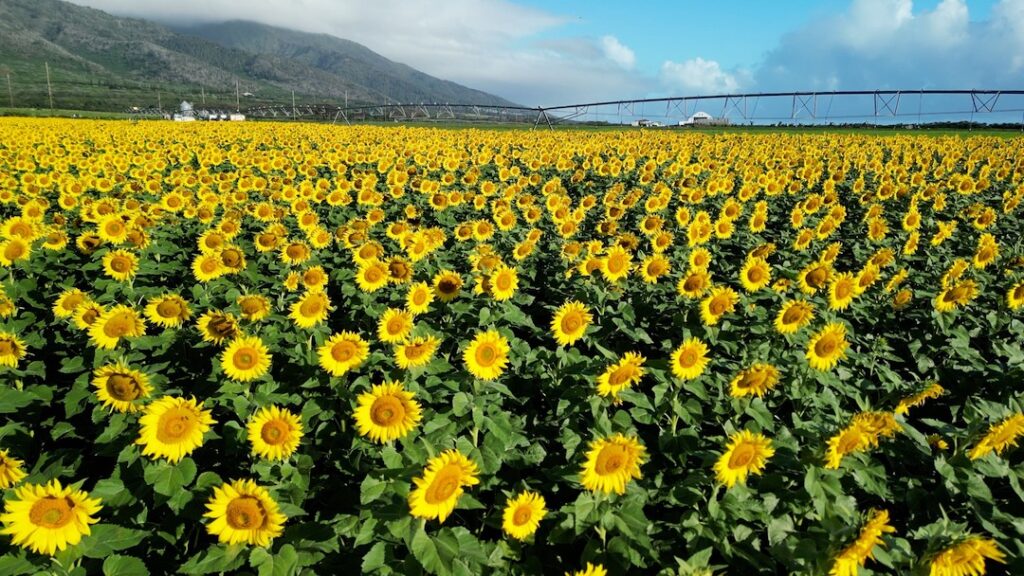 We revel in the beautiful blooms, however every part of the growth process is important. Sunflowers are yellow to attract honey bees, and every tiny floret gets pollinated.
The seeds that comes from those blooms then get crushed to create natural sunflower oil, "first for food," as Galatro says. The sunflowers can go from "soil to oil" in about 100 days, allowing for multiple harvests throughout the year.
Through Maiden Hawai'i Naturals, they craft Maui Sunflower Oil a naturally cold-pressed premium culinary oil that's turning the heads of chefs.
Fork & Salad Supports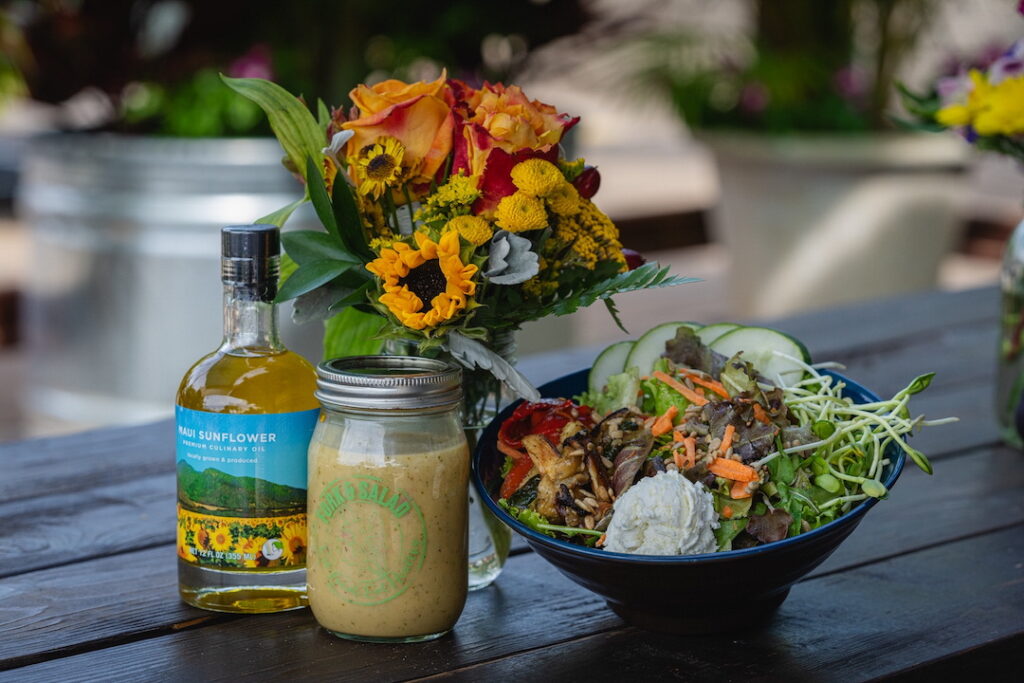 Fork & Salad Maui, a healthy fast-casual, farm-to-table eatery in Kīhei and Kahului, is crafting a sunflower oil dressing to pair with its seasonal Maui Sunflower Salad, which features a bounty of local harvest vegetables and fresh ingredients from dedicated suppliers like Kumu Farms and Kahanu 'Āina Greens.
"From the launch of Fork & Salad in 2016, we've remained committed to our motto of #EatLocalEatHealthy," explains Co-owner/Chef Travis Morrin, who crafted the new salad and dressing. "Our team still picks up fresh produce at the farms twice a week, and we love aligning with other Hawai'i businesses that truly make supporting local their way of life."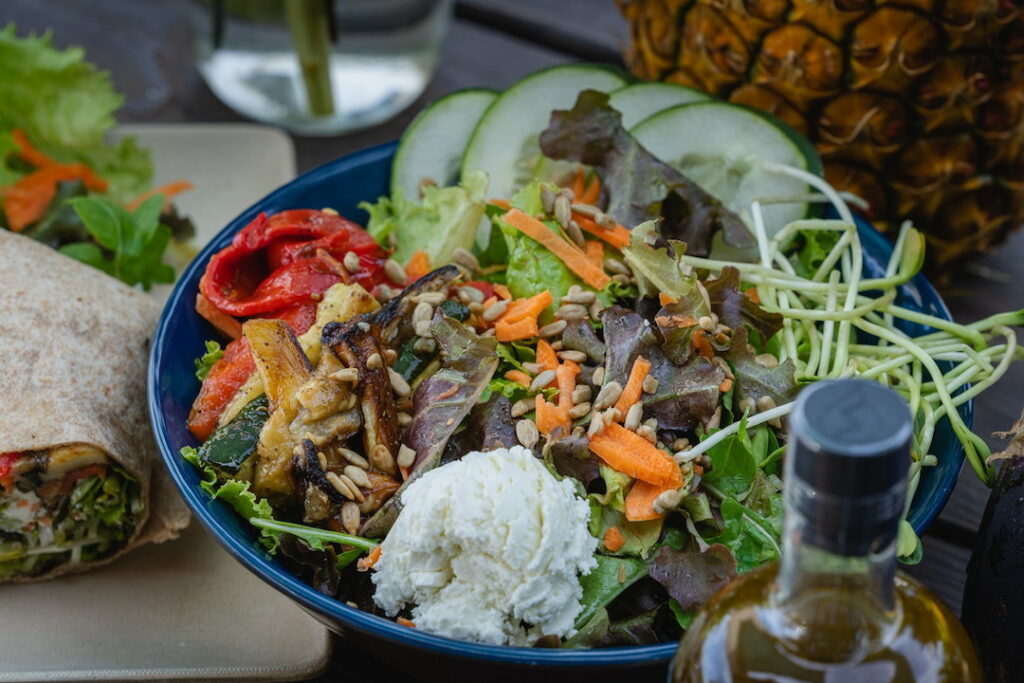 With spring mix, roasted eggplant, bell pepper, zucchini, cucumber, carrot, sunflower seeds and sprouts, the salad is a natural fit with Morrin's special Roasted Pineapple-Tamarind Vinaigrette, crafted with Maiden Hawai'i Naturals Maui Sunflower Oil.
"When you're supporting restaurants like Fork & Salad who are supporting us as local farmers and food producers, know that you are supporting that bigger sustainability impact; that circular economy," says Pacific Biodiesel Marketing Manager Joy Galatro.
Maui Sunflower Farm Music Fest for Food Security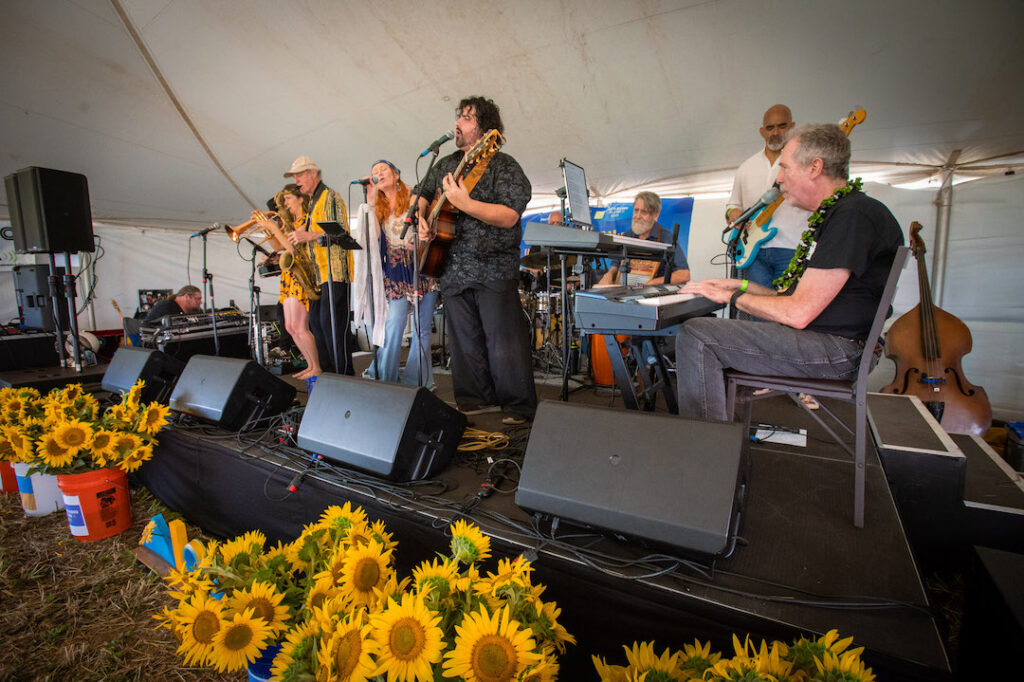 Maui Sunflower Salad will debut on Earth Day, which is Saturday, April 22nd. This is also the date of the Sunflower Farm Music Fest, a day-long concert set to happen among the field of blooming sunflowers.
Performances by Maui musicians will include George Kahumoku Jr, Drew Martin, Sting Kong, Soul Kitchen, Brown Chicken Brown Cow String Band, The Lonely Hearts – Beatles and Beyond, Marty Dread with Gretchen Rhodes & The House Shakers – and headlining is multi-platinum music producer, artist manager and event producer Kerry Brown of Licorice Pizza Records with his "Licorice Pizza Jam Session" featuring Benny Uyetake plus special guest bandmates to be announced.
In fact, producer Kerry Brown added a surprise to the fest! He'll record the all-day live music event and produce a limited edition vinyl LP. Each person who purchases a ticket to the event will receive a copy of the vinyl record, compliments of Licorice Pizza Records. Brown, who owns a home in Ha'ikū, plans to feature images from Maui artists and photographers in original design of the record sleeve too.
"This has never been done before – a live concert event recorded in a blooming sunflower field on Maui. It's a rare experience we're creating that people can come enjoy and take part in as we support Hawaii's farmers and help move the needle on local food production," Brown said.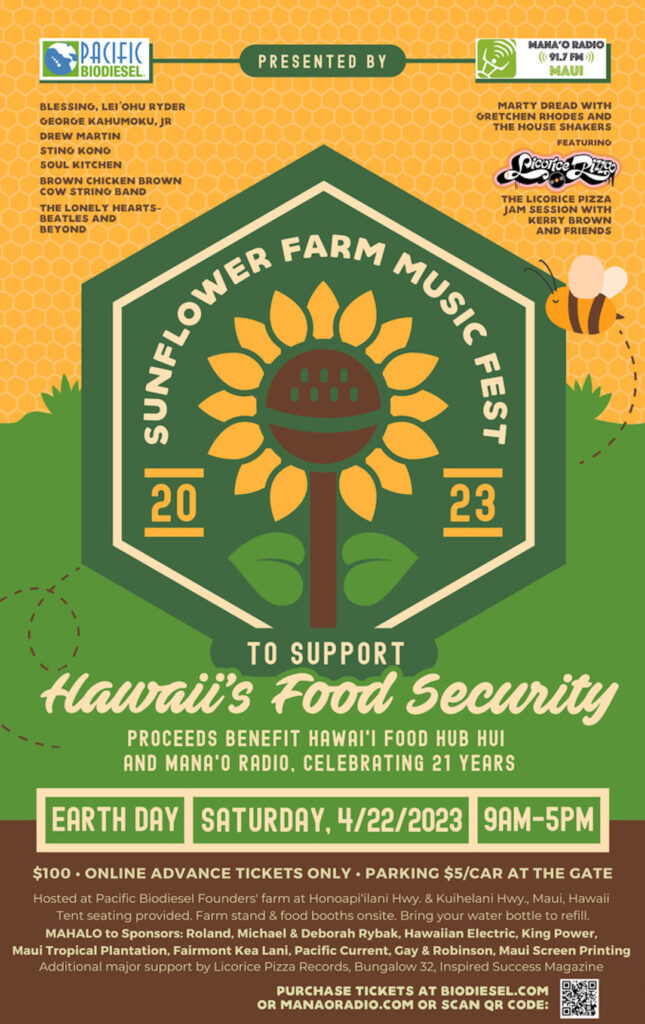 Get your concert tickets here. A full 100% of ticket sales will go to support Mana'o Radio and Hawai'i Food Hub Hui, which includes Maui Hub, to shine a spotlight on the important issue of food security.
"Hawai'i is the most isolated population on the planet, making our food supply extraordinarily vulnerable to supply chain disruptions, natural disasters and other emergencies," explains Kelly King. "It is critical to support our local farmers and local food producers."
See the Maui Sunflowers Safely on Farm Stand Days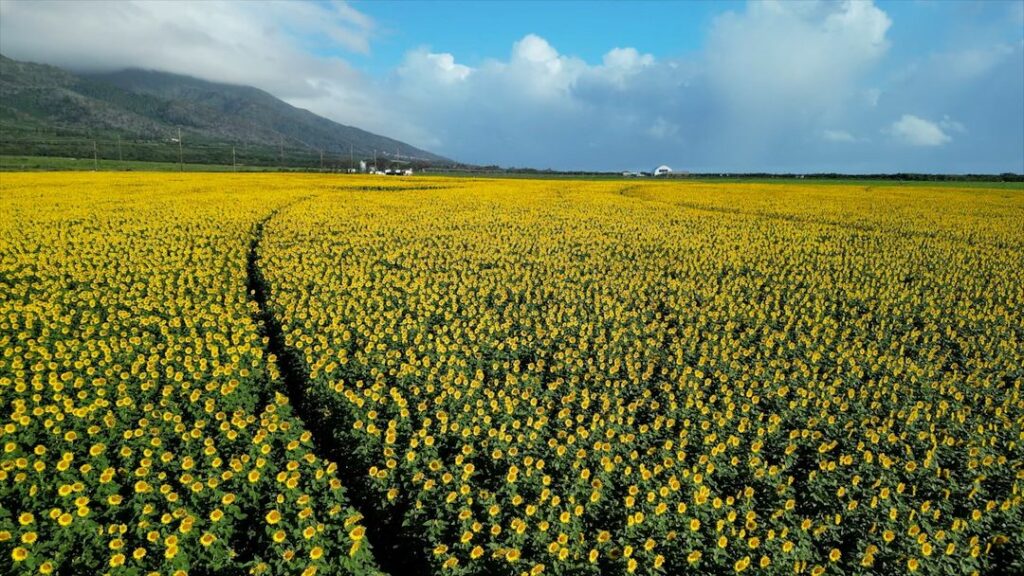 After the concert, the sunflower farm is introducing Farm Stand Days on Saturday, April 29th and Sunday, April 30th from 10 a.m. to 4 p.m. This will allow official entry onto the private farm for photos, tours and education. That way, people aren't risking their safety on the side of the road for photos, disturbing farm operations or trespassing onto private land. There will also be sunflowers and products available for purchase.
Fork & Salad fans who bring their receipts to the Farm Stand Days can receive five free sunflower blooms or $5 off a bottle of Maui Sunflower Oil!
Also, throughout the month of May, those who eat at Fork & Salad will get a coupon code on the bottom of their receipts that provides 10% off at Maui Hub.
Maui Sunflower Salad is so aligned with Mother Nature, it's only available during the span of the latest sunflower bloom, so customers can enjoy it until the field is ready to be harvested!
Want to know about a recycling solution in South Maui that's diverting materials from the landfill and making a massive impact on our island? Check out our story, Less in the Landfill with Hawai'i Materials Recycling.
#MauiEarth #MauiOutings #MauiInspired