Community comes together. That's what Kīhei 4th Friday is all about. Music, craft vendors, food trucks, keiki zone…all local. We checked in to see how it's all going in our #SmallBusinessSupport video series above.
A Longstanding Tradition in Kīhei Returns
Kīhei 4th Friday first started way back in 2012 as part of the town party tradition on Maui. The festivities had to take a two year break (you know why = COVID) in 2020, however, the community celebration has now come back to South Maui as of June 2022.
"I've been involved in Kīhei 4th Friday since the very beginning," says event organizer Debbie Probst. "We've gone from a committee of 30 people down to three main women that run this and bring the happiness to Maui!"
Food Vendors Galore!
Pi'ikea Avenue is closed to cars during 4th Friday, and the street gets filled with food trucks and snack tents! Mish Shishido is in charge of these vendors and has seen the event's food truck alley grow impressively over time. She adds that several brands have evolved from food trucks to brick-and-mortar businesses after getting a solid start at Kīhei 4th Friday.
"We're a springboard for a lot of businesses so that they can continue to thrive and prosper," Shishido explains.
A Range of Retail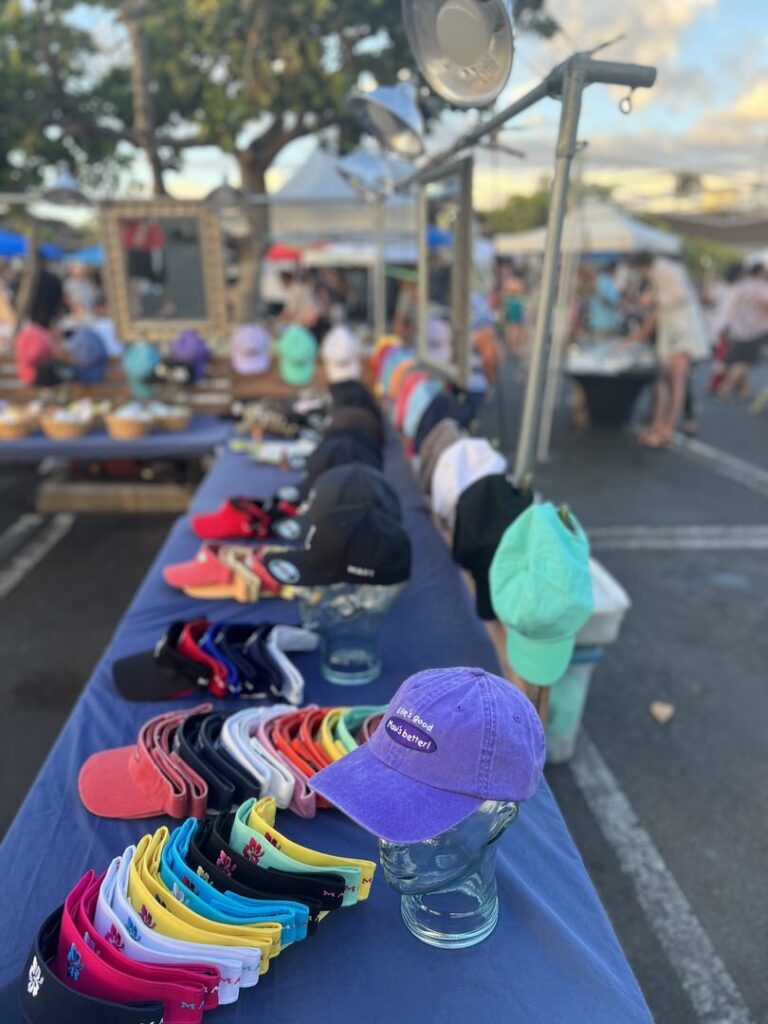 Art, jewelry, clothing, crafts, even tarot card readings! Retail organizer Lorraine Ernestberg says variety is what gives Kīhei 4th Friday its unique flair.
"We have all kinds of crafters, so please come and see us," she says. "Nice Christmas shopping!"
In case you're wondering about the best way to access all this great shopping and celebration, there's free parking just across South Kīhei Road at Azeka Makai Shopping Center, or a little to the South at Kīhei Plaza (where Akamai Coffee is). You can also park across Pi'ikea Avenue at Kīhei Center (home to Long's Drugs/CVS) for $10.
Family-Friendly Fun at Kīhei 4th Friday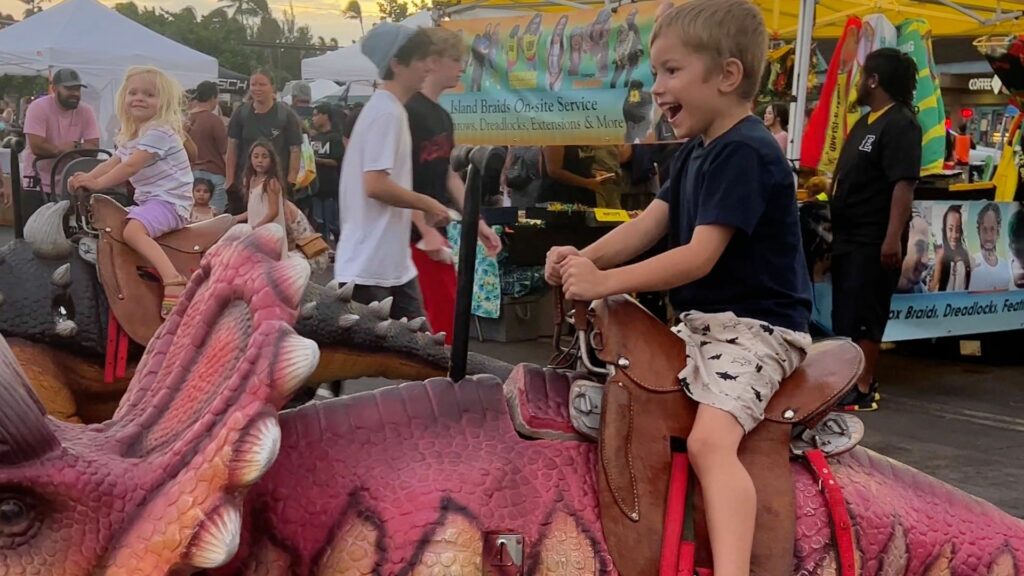 Kīhei 4th Friday is also known for its keiki zone, and a whole stretch of the vendor area is often reserved just for kids (or kids at heart!), with interactive games and fun activities. In August, it was animatronic dinosaurs available for rides, along with face painting and balloon twisting. In the past, we've seen hula hooping, bubble fun and all kinds of games. Who knows what the next event will bring for our 'ohana?
Local Support in All Ways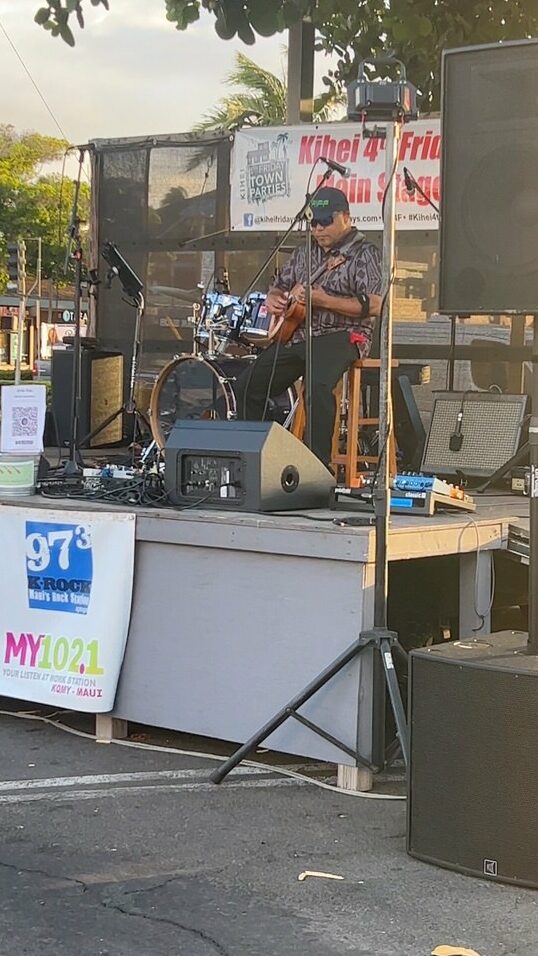 Live, local music gets people clapping along and dancing under the stars, thanks to notable musicians like Arlie Asiu, Marty Dread, Eala Kamai, Dale Kapua, Maui Eight Track Players and more. There's a classic car show on display for those who love a good hot rod! We've also enjoyed ribbon dance performances and dragon parades, depending on the month!
Kīhei 4th Friday is not only a fun time, it's also a huge source of support in our community. From the event equipment to the vendors to the volunteers, local is the focus. It gives Maui brands the chance to be seen, it allows people to connect with each other (especially after so much isolation) and it makes a difference to our island.
It's worth noting that the entire event is organized and run by volunteers. And they can always use MORE of them!! The three leading ladies who donate their time to make 4th Friday happen wanted to give a giant shout-out to the student volunteers from Kīhei Charter School who made their lives so much easier at the August event.
"I have never met individuals like this," says Shishido. "We're normally running around the entire night; they're doing everything that we ask them to do, with excellence; they are very respectful, very energetic and we tell them something and they're off doing it — this is one of the most amazing groups of kids we've ever had, so Mahalo Kīhei Charter and we invite any school to give us the same caliber of volunteers!"
A Worthwhile Time in Kīhei
One of the coolest part of attending Kīhei 4th Friday is…it's free! Though you may be inspired to part with a few bucks to show your support (and satisfy your appetite).
"You don't have to buy any food, but you will 'cause it smells so good," laughs Probst. "You don't have to buy any items — you can just come and listen to the music — but the stuff is so interesting and people do like to purchase products while they're here. We're happy to support local and get the Maui economy back going again!"
Kīhei 4th Friday happens on the fourth Friday of each month (sometimes there are five!) between 6 and 9 p.m. at Azeka Mauka Shopping Center, 1279 South Kīhei Road. Vendors say they're so grateful to unite on the South side and take part once again!
"Out of all the events that we do, it's the most like coming back together and seeing friends," says Ayla Grady, co-owner of Violet's Toy Box and a longtime 4th Friday vendor. "Checking in and seeing how everybody did and seeing all the businesses that thrived, it's so good to be back."
Check out the Kīhei 4th Friday Facebook page to see what's to come each month!
#MauiOutings #MauiInspired