When Maui Brewing Co. opened in Kīhei back in 2014, the Tasting Room was where folks came to experience the beer and enjoy a sense of community.
"The Tasting Room was the first guest-facing venue, introducing beer to visitors and the community," recalls general manager Tony Ren. "We used to have food trucks out here, as I'm sure a lot of our locals remember that as a fond memory."
Maui Brewing Co. Grows in Kīhei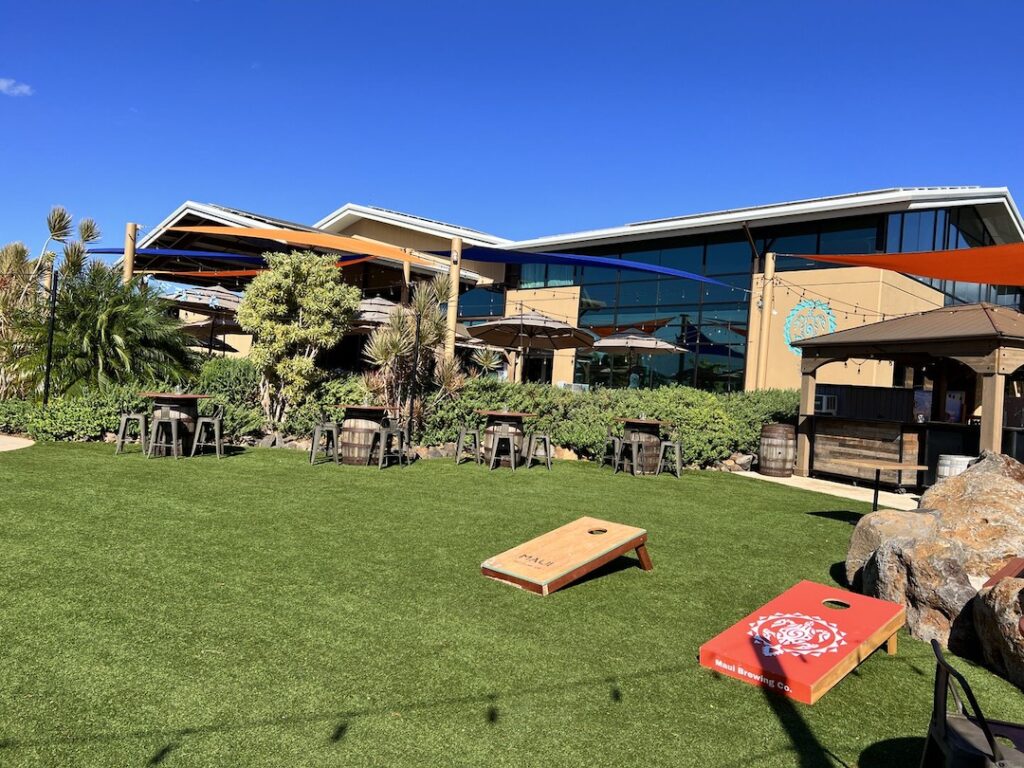 Four years after opening on Līpoa Parkway, they added on a restaurant and open-air dining space, as the product line grew to include Kupu Spirits gin and whiskey, along with locally-made hard seltzers and a cool fun option called "Sloshies!"
A Bit of a Break
As we all know, COVID hit, and Maui Brewing Co. closed to the public in 2020. While the restaurant has since reopened, aside from providing sanitizer and some to-go beer during the pandemic, that iconic Tasting Room remained shut down. Until…NOW! The stylish space is back open from Wednesday to Sunday, welcoming locals and visitors to enjoy some drink and appetizers, listen to great live music or cheer on their favorite sports teams.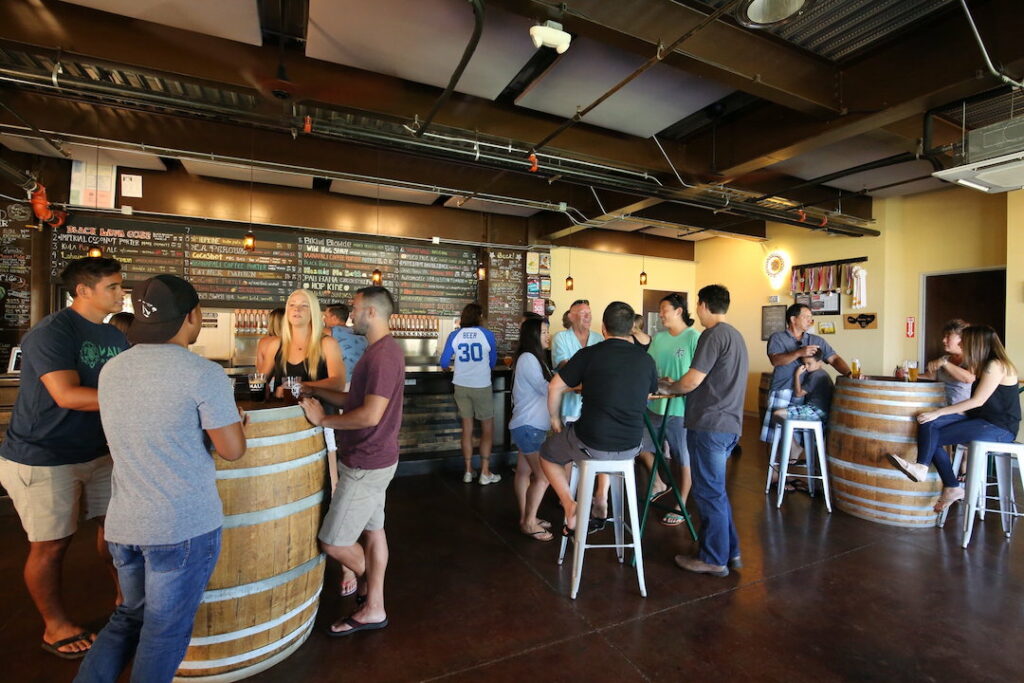 "It's such a historical part of our place in Kīhei and a lot of our local residents have reached out over the years to tell us how much they love it, and how much they missed it during COVID," Ren says.
Happy Hour Highlights at Maui Brewing Co.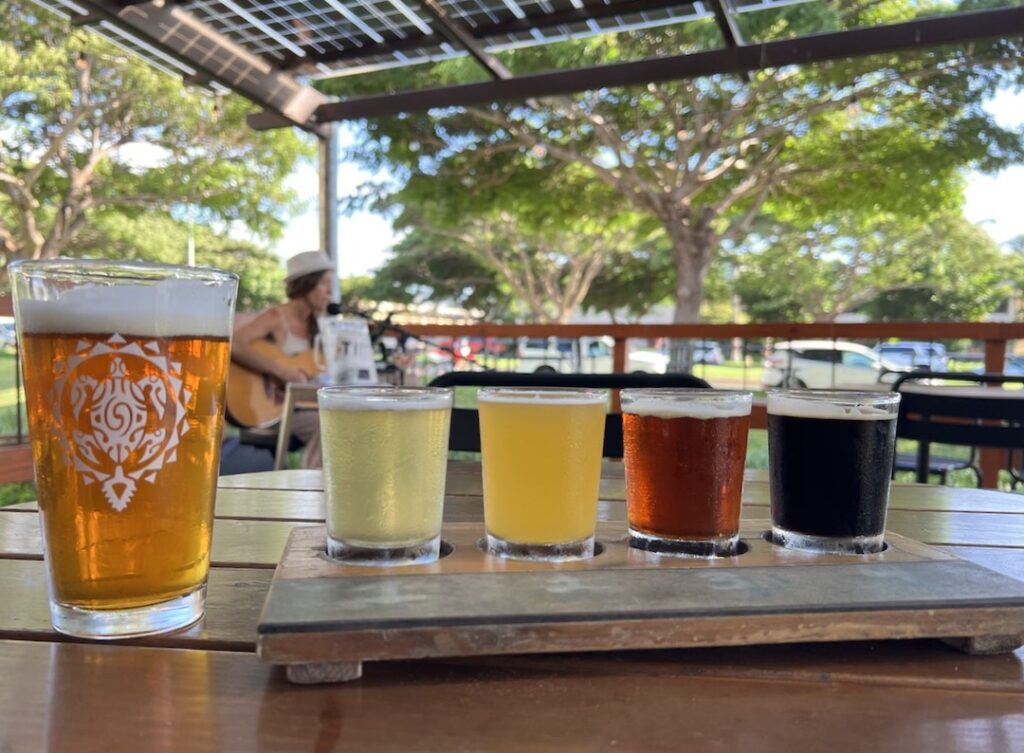 The reopening of the Tasting Room — complete with 32 locally-made beers on draft — is one of many reasons this place made our #Top5 list of best Happy Hour spots on Maui. As far as logistics, happy hour starts at 3:30 there, Monday through Friday, and here are a few more perks you might like to know about…
🍺 Discounts on Drinks! $1 off house draft beer, $3 off craft cocktails
🍕 Deals on Food! $12 pizzas and half off select appetizers
🥳 Reopened Tasting Room! Yes, we already said that but it's worth mentioning again! 😆 It features live music on Wednesday, Friday and Saturday, with sports on Thursday and Sunday.
😎 Spaces to Play! The outside patio is huge and fun, with games and barrel tables to host events and chill with friends. Their open-air dining space is also quite nice.
🤙 Local Love! While happy hour is officially 3:30 to 4:30p, kama'āina get an extra hour to enjoy, till 5:30p!
A Beloved Local Brand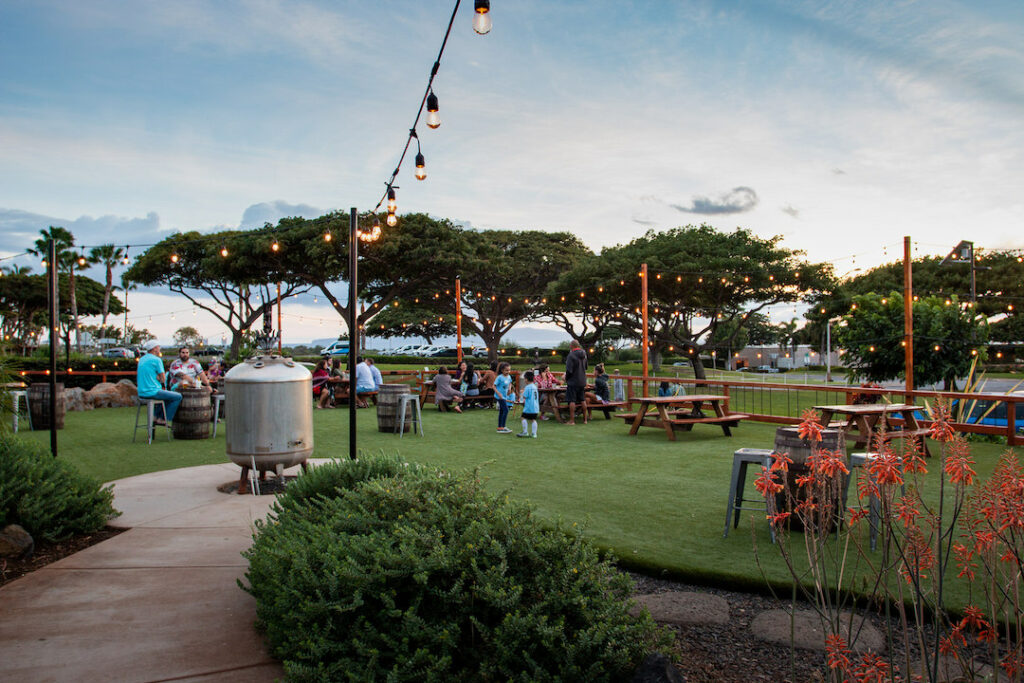 Maui Brewing Co. has earned the distinction of the largest craft brewery in the state of Hawai'i. Check out our video at the Kīhei brewery (605 Līpoa Parkway) with General Manager Tony Ren to learn more. Just a side note that Maui Brewing Co.'s flagship location, launched in 2005, is still active in Kahana Gateway on the West side too. We say cheers to that!! 🍻
#MauiHappyHour #MauiEats #MauiInspired