Yoga can be relaxing, rejuvenating and all-around good for mind, body and soul. But yoga surrounded by water and marine life? Well, that takes finding your flow to a whole new and incredible level!
Don't Miss Aquari-OM Yoga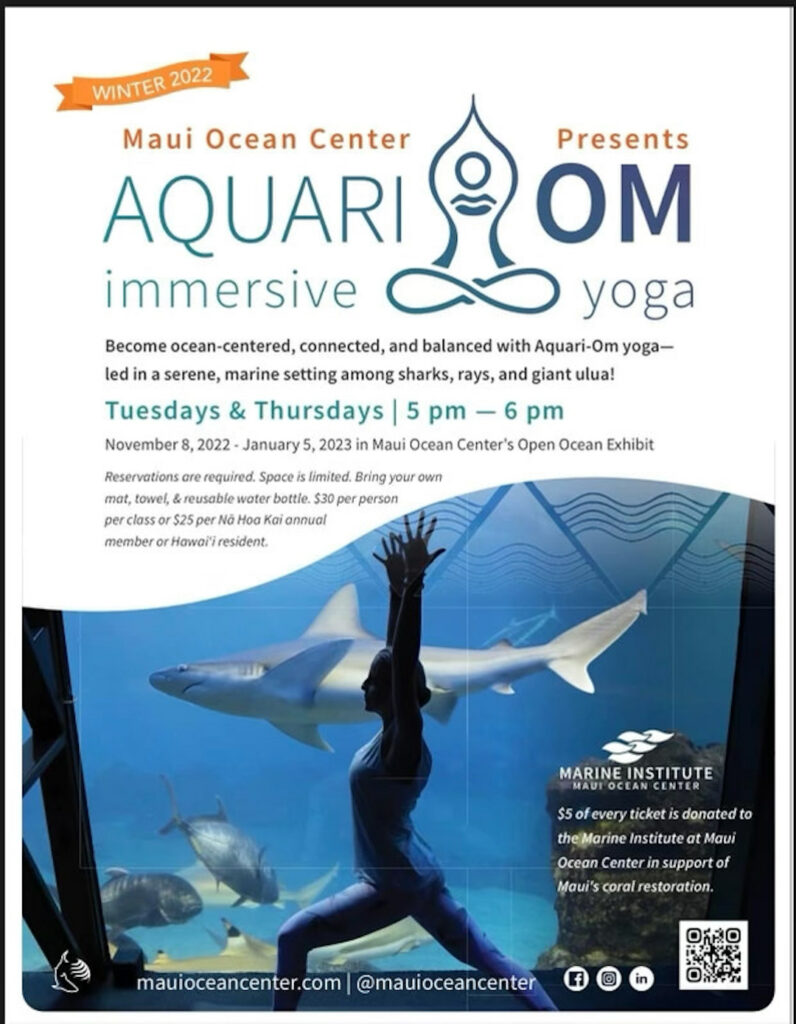 We're happy to report that Aquari-OM Yoga has returned to Maui Ocean Center, every Tuesday and Thursday from 5 to 6 p.m. through January 5th, 2023. The instructors rotate depending on the date.
This class is held once Maui Ocean Center closes for the day in the Open Ocean exhibit, so it's really a one-of-a-kind opportunity to experience the 750,000-gallon exhibit as you breathe deep and stretch out.
We had an incredible time in our class with yoga pro Brittany Bowers! What a special way to get ocean-centered among the sharks, rays and tropical fish. Some of the marine life actually seemed to respond to what we were doing!
All Skill Levels Welcome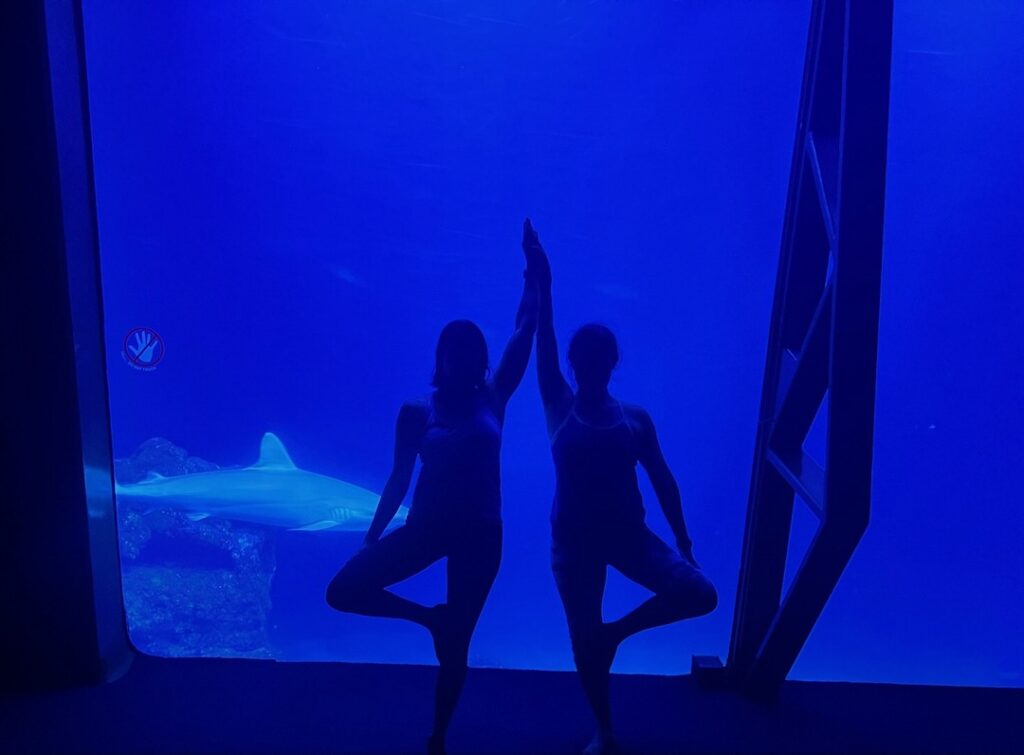 I'm not particularly skilled at yoga, but I didn't need to be. The classes are open to all skill levels, and anyone ages 12 and up. Make sure to bring your own yoga mat and water bottle.
Reservations are required, since space is limited. Check-in happens at 4:45 p.m. in the center's administrative offices (you come upon this building first as you enter the parking lot, on the left side of the large sphere), then you get special access to the Open Ocean exhibit after hours!!
Stretch, Center & Support a Great Cause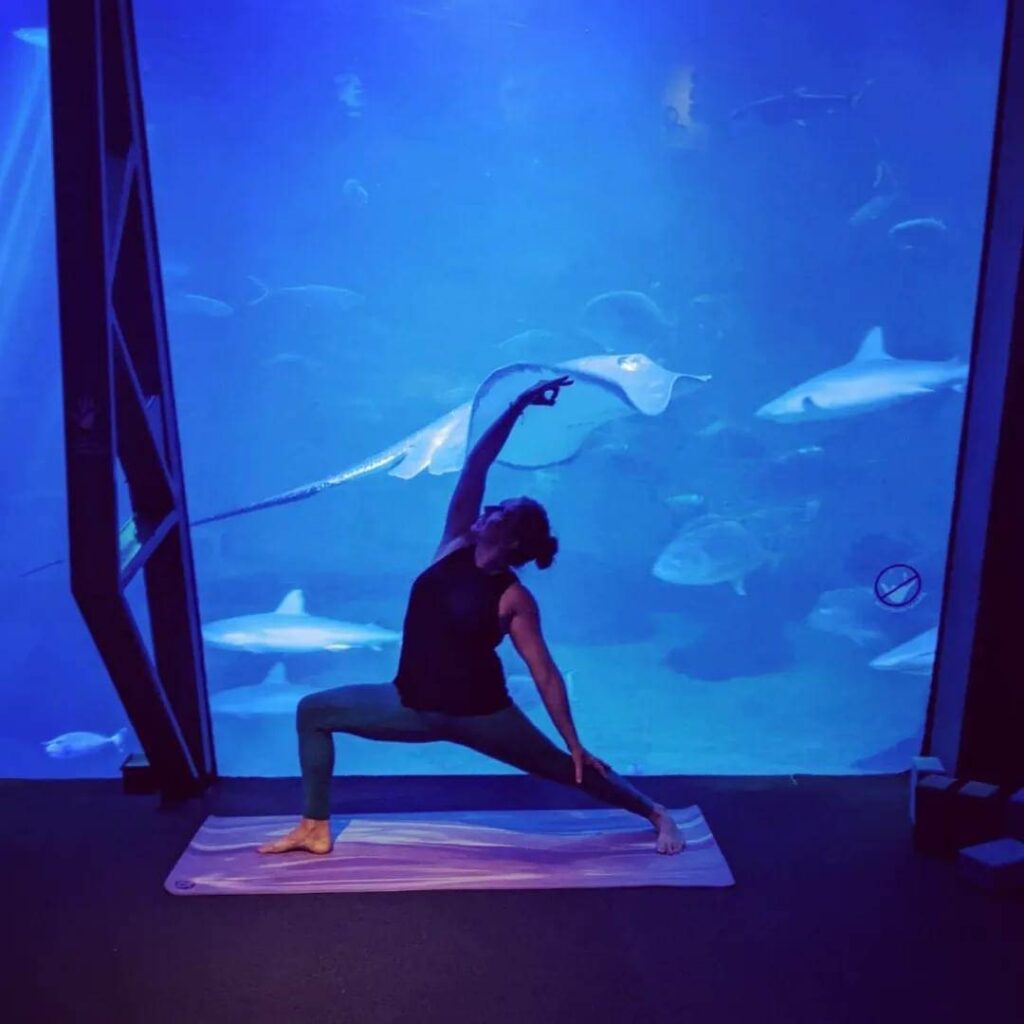 The class costs $30 for visitors, and $25 for kama'āina (and Nā Hoa Kai members) and $5 of each ticket is donated to MOC Marine Institute to help support sea turtle rescue and coral restoration.
With the lights dim, the marine life active and the water as blue as can be, there's a powerful energy as you tune into your yoga practice. I left with an inner glow and (an outer smile) after some much-needed self care!!
Go to the Aquari-OM page to learn more and register. And if you'd like to try yoga with a little feline vibe, Cat Café Maui is offering Kitty Yoga, along with other fun activities like Paint & Purr, movie nights and more. Check out our blog, Cat Café Maui: Open Meow for Playtime for details!
#MauiOutings #MauiInspired