There's a new business in Kīhei that's all about energy, and we're all about that. Its purpose is to help you tune in and enhance your health, your self, your world.
Sounds wonderful! Yay! Great! But, how?
With something known as a Harmonic Egg® — and Maui has the very first one in Hawai'i, thanks to Mind and Body Harmonics. Get details in the video above.
So…What is a Harmonic Egg Exactly?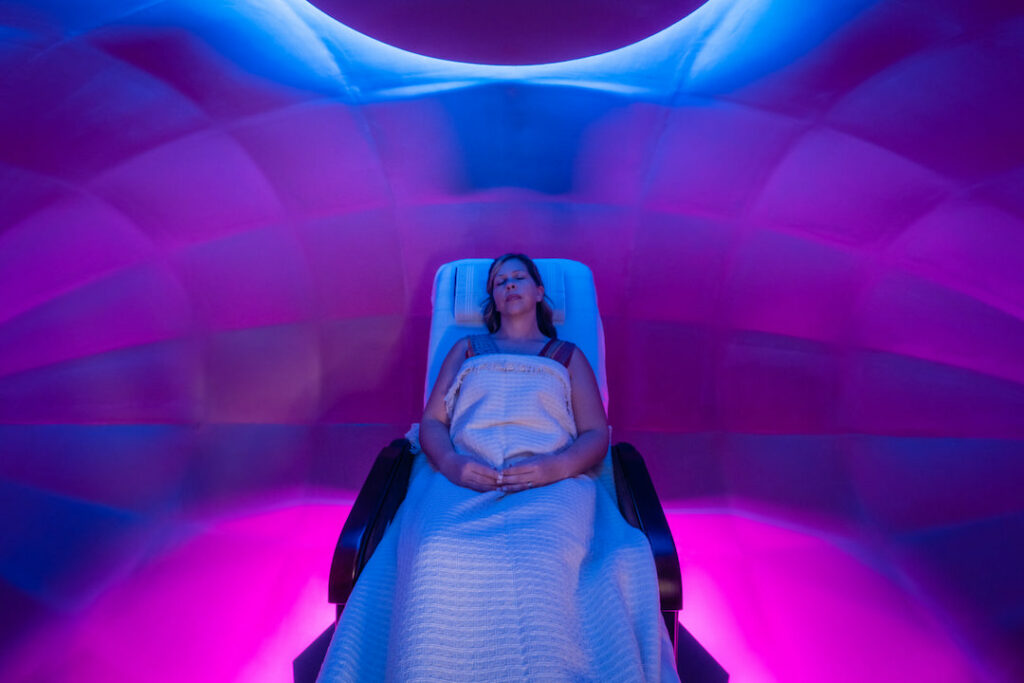 Its name is memorable and may make you wonder, but the "Egg" is a profound and special space. The resonant chamber has a zero-gravity recliner, where clients sit and relax while harnessing the power of sound and light. According to HarmonicEgg.com, it "delivers a bio energy therapy that restores the body's balance and promotes healing. It utilizes the energy found within the body to allow cells to reset and re-balance and encourage natural healing."
Specialized vibration and frequencies emanate from relaxing music and colored light, which are custom-chosen based on different topics of wellness.
Before their sessions, each client sets an intention to focus on. Through sacred geometry, light, color, and sound frequencies, the Harmonic Egg® empowers the body's own healing energy.
"We utilize energy to support physical, mental, emotional and spiritual wellbeing," explains Mind and Body Harmonics owner Sandy Schneider. "There is a tremendous amount of power in sound, light, color and frequencies, and we program the vibrations to target specific issues and help clients perpetuate peace and harmony in their lives."
There are more than 100 Eggs around the globe, and Mind and Body Harmonics is proud to be introducing this concept to Hawai'i. The new wellness center officially opens in Kīhei on Saturday, November 12th, 2022.
How Can the Harmonic Egg Help?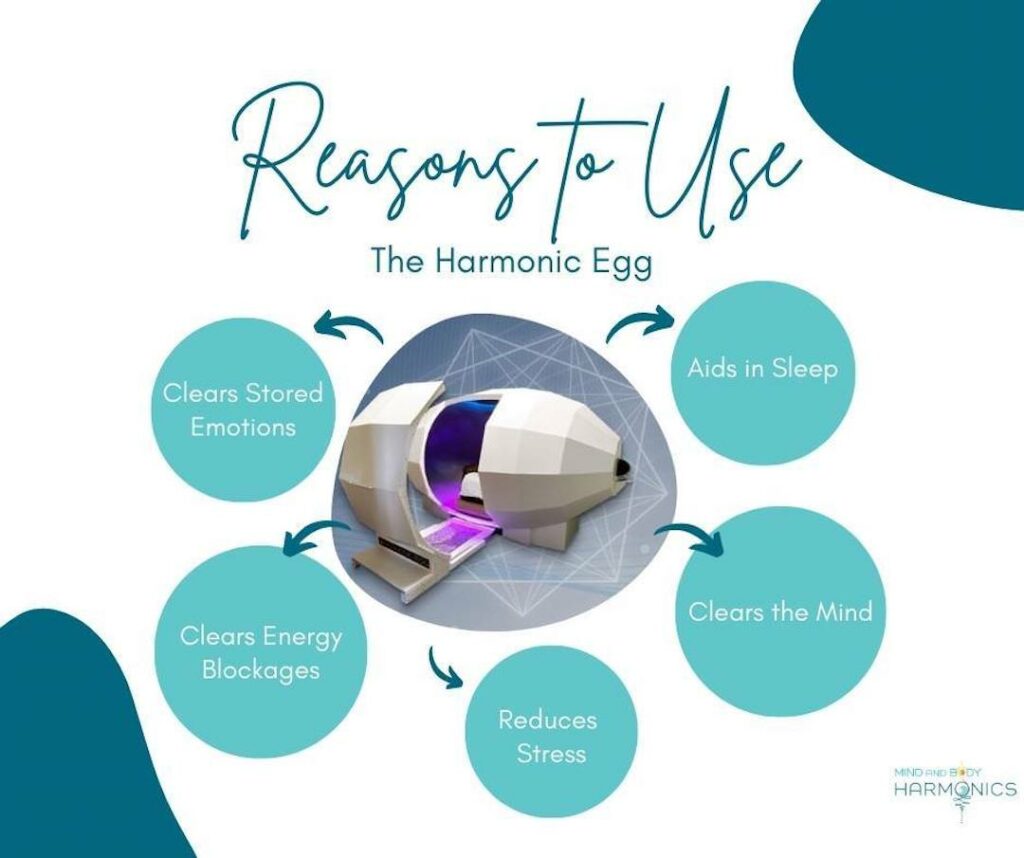 Mind and Body Harmonics tells us that energy therapy using the Harmonic Egg® has proven effective for many physical, mental, and emotional challenges. They say clients report recovery from illnesses; relief from stress, PTSD, pain and injuries; greater mental clarity and focus, spiritual and emotional restoration; less anxiety and better overall health. These sessions can help adults, children and pets. It is known to be safe for any age, including babies.
"For someone who has dealt with anxiety for years, I was blown away by the way the Harmonic Egg was able to help me quiet my mind and feel more centered in just a few sessions," explains client Gina. "I have yet to find anything that has helped me as much as the Harmonic Egg, and I highly recommend giving it a try."
Some of the known benefits of the Harmonic Egg® include…
Clearing Energy Blockages and Stored Emotions
Reducing Stress & Anxiety
Helping in Sleep & Spiritual Growth
Accelerating the Body's Natural Healing Abilities
My First Experience at Mind and Body Harmonics
I've had lower back pain for way too long. It can make deep sleep a challenge and often has me shuffling around slowly in the mornings as I work to avoid dropping anything on the floor!!
So this became my focus as I encountered the Harmonic Egg for the first time, at Mind and Body Harmonics in Kīhei. I had heard great things about sound healing and color therapy, but had yet to really immerse myself in the practice.
The process was simple, with a little intake questionnaire and chat with Owner Sandy Schneider, whose astounding first experience with the Egg literally changed the course of her life. More on her incredible backstory later.
My time in the egg was peaceful and, well, harmonious. For 50 precious minutes, it meant unplugging from my phone, which is a feat in itself! You briefly focus on your chosen intention, which for me was my lower back and inflammation, then let it go and just enjoy the chill experience with pretty lights and serene music.
So that was that. Until the next morning when I woke up…and couldn't find my lower back pain. Like, it was gone. I purposely did the things that usually cause me discomfort, like sitting on a wooden chair for two hours, lugging groceries up the stairs and picking things up off the floor. I was fine! My pain had disappeared so quickly, I don't really feel that anything else could have done that. It blew me away.
Will I need to go back? Sure. It's been a few weeks now and I feel the vibes "wearing off" a bit, though my pain still isn't nearly as intense at it was. But Schneider says they estimate that most folks need three to five Egg sessions to see a sustained difference. Everyone's experience with the Egg is their own.
Where Can You Try this Harmonic Egg?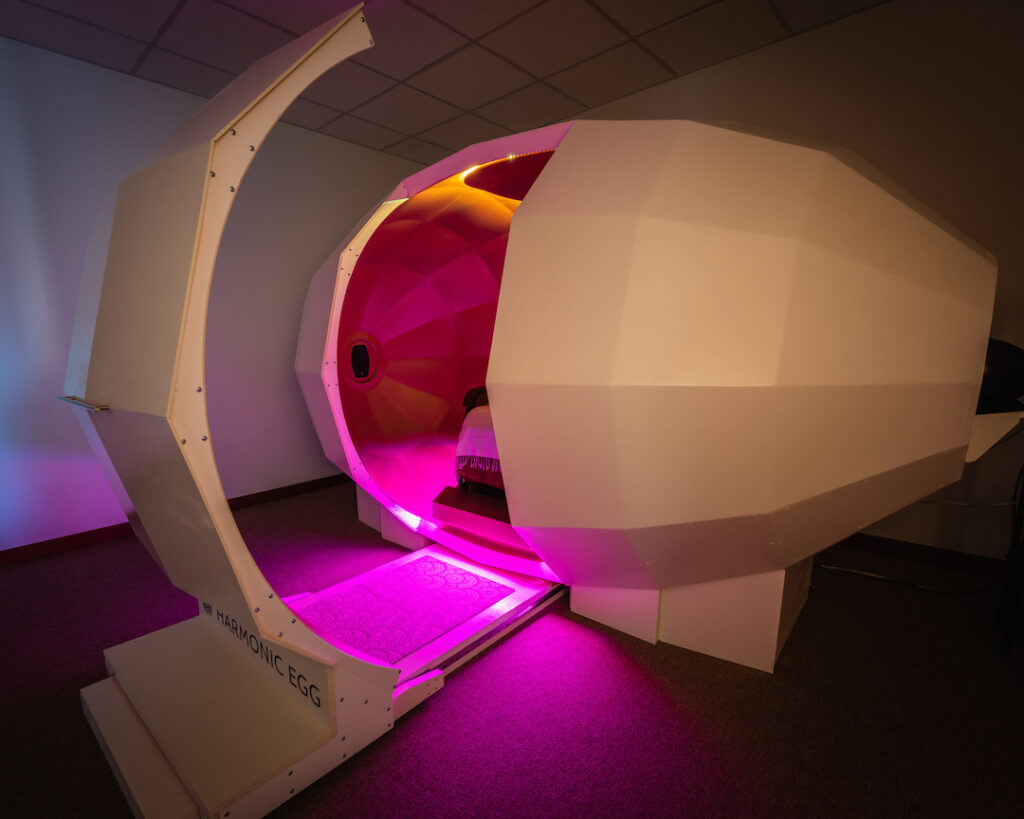 There are TWO Eggs, in fact, located at 95 E. Līpoa Street, B-101 in Kīhei, Maui, Hawai'i, in the complex with Fabiani's. Appointments can be easily scheduled online or over the phone.
Residents get a kama'āina discount, and visitors are welcome too — some may even want to book this as part of a larger mindful Maui experience through "wellness concierge" Janice Silva; Mind and Body Harmonics is listed among the recommended services on the Joyful Maui Wellness resource page — see our story on A Meaningful Maui Visit to learn more.
Celebrate More Harmony in Hawai'i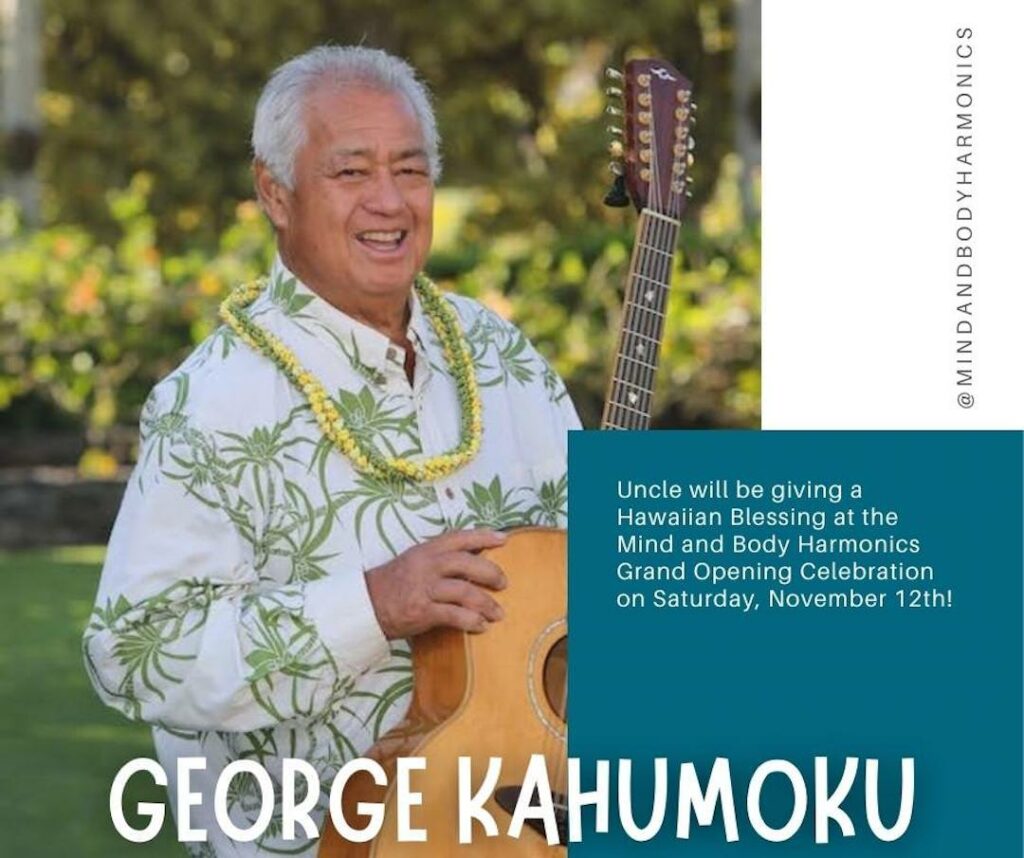 If you'd like to scope out the Egg, Mind and Body Harmonics is inviting the community to its grand opening celebration on Saturday, November 12th from 1 to 3 p.m. 
There will be a Hawaiian blessing by George Kahumoku Jr, sweet treats from Fabiani's Bakery & Pizzeria and Isagenix® Adaptogen "mocktails" by Janice Silva during the festivities.  Schneider expresses her excitement about all of it in this clip by Maui Video & Marketing.
The public is welcome to attend and get an up-close look at the very first Harmonic Eggs in the state of Hawai'i! Learn much more and book your session at the Mind and Body Harmonics website, or by calling 808-856-0054. #MauiAwareness #MauiInspired